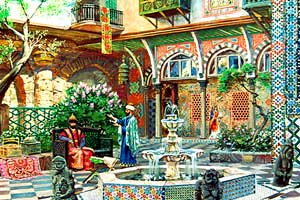 People have always tried to organize their life in such a way as to make it comfortable and what's more important – safe. From this viewpoint a ditch around the old Kazan Kremlin or a trading quarter is also an element of infrastructure, as well as a market or medieval bath-houses.
It's interesting to trace the development of transportation means – from riding and horse carriages to horse tramway, later to usual trams (by the way, in 1999 we celebrated the 100th anniversary since the first tram appeared on the streets of Kazan) and already in 2005 the citizens expect the first metro line to be opened for public use.
The closer we come to present days the more striking changes we observe. It's also true for the trade: tradesmen that used to spend half a year on way and colorful trade fairs that took place on the island near Kazan were replaced by transnational companies like "Ikea" that open their hypermarkets all over the world, and Internet shopping.
Technological advance contributes much to the improvement of infrastructure – it's not only about transportation, business or social systems, but informational infrastructure as well. By now the number of cell phones in Tatarstan far exceeds the number of home phones, and the word combination "protection system" is associated mostly with antiviral programs and internet screens…