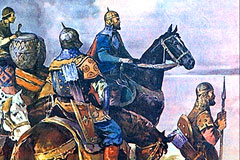 The conquered and reduced land was ruled by 2 military governors – Kazan and Sviyaga one. The garrison of Kazan in 1560-s consisted of 600 archers (strelets). It came in handy as during the second half of the XVI and the beginning of the XVII there took place numerous national rebellions. In the XVII century there were plentiful armed forces in Kazan, among them were several foreign regiments.
The new government took into account historic experience, when part of tatar higher ranks had taken their side in the battle for these lands. That's what influenced their politics – their aim was to create a reliable foundation; as a result a part of tatar feudal lords (mostly those who helped to struggle against the rebels) received lands as a reward. Thus there appeared a class of service people.
The main part of Kazan province population consisted of so-called yasachny people (from the word "yasack" – the main feudal duty that feudal dependent people had to pay to the government).
In 1708 the territory of the land, that earlier belonged to the so-called "lower lands" and was ruled by special Order of Kazan palace, became a part of general control system as newly organized Kazan province. During administrative reform the province became huge in size; it stretched from Urals to the Caucasus.