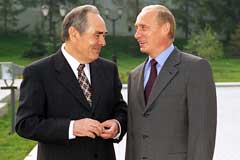 Since 1990 government of the republic passed 3 important documents: the State Sovereignty Declaration, Constitution and the Treaty with Russian Federation on distribution of subjects of jurisdiction and mutual delegation of authority. All the 3 documents in the whole form not only the legal basis, but also the foundation of political stability of the society and the ground for economic reforms.
The main institution of the legislature in Kazan is the city council. The executive power is realized by the city administration. The head of administration is Iskhakov Kamil Shamilevich.
Kazan is a full member of such international organizations as World-wide Federation of Related Cities, Organization of the Cities of World-wide Heritage, International Association of Related Cities, European Association of Historic Cities and Regions, Union of Russian Cities, Congress of Russian municipal formations.