Economics in ancient times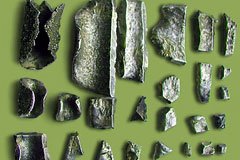 In the Stone Age people lived mainly hunting for reindeer, bear, wooly rhinoceros and mammoth that abounded in the vast expanses of Middle Volga in that period. Rise in temperature (40-12 thousand years ago) resulted in settled way of life, tools improvement, broadening of natural habitat. In the New-Stone Age (5-6 thousand years ago) people learnt to polish, saw, drill stone, to produce earthenware crockery. The remains of the settlement that consisted of earth-houses were found in Borovoe Matushino, Zaimishe, Observatoria (today's resort areas).
The first settlements of By-Kazan people (prominent representatives of Middle Volga region of the Bronze Age) were also found in the surroundings of Kazan. Judging by archaeological finds these people were good at building, handicraft, metallurgy, cattle-raising, growing millet, wheat and barley.
The Iron Age in the history of ancient inhabitants of our land is closely connected with the culture of Anansky people (this name was given to their tribes, as the archaeological finds belonging to these people were firstly found near village Ananino, not far from Elabuga). These descendants of By-Kazan people were the first in Volgo-Kama region who built fortifications and fortresses.
At the end of the III century B.C. Anansky people were replaced by Pjanoborian tribes (the name was given after village Pjany Bor). They could already produce iron objects.
Archaeological finds also testify to the fact that Anansky people exchanged goods with other tribes. Through the mediation of Scythians they could get things even from Greece and Egypt. However, there were items typical for their land only. For instance, epaulette-like clasps typical for Pjanoborian culture can't be found anywhere else.