Economics of the XIX century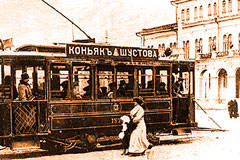 In 1896 in Kazan there were 176 factories and plants, and in 1904 their number reached 320. During the period since 1896 till 1914 the number of labourers working there increased from 10.5 to 21 thousand. The conditions of work and life were such that, though the official working day lasted 11.5 hours, workers of most enterprises spend at their working place 14, sometimes 15 hours a day, with only 3 days off a year (for instance, that was the way bakers worked).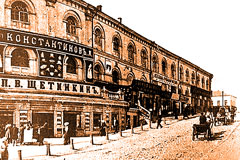 The main enterprises of that period were stearin-soap factory of the Brothers Krestovnikovy, textile and tanning enterprises of the Alafusovs, and the Kazan gun-powder plant. The national capital was formed. In the first half of the XIX century Kazan became the center of the forming Tatar bourgeois nation. It played the leading role in its cultural and economic development. By 1914 the Tatar businessmen had organized 154 firms. Not long before the First World War began, Tatar merchants had opened in Kazan a bureau that had trade relations with Berlin and London. There took place the formation of statistics; there was taken the first census of population that aimed at carrying out of fiscal functions.