Economics of the XVIII century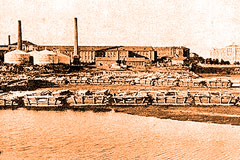 Agriculture still had the leading position in the land's economy, but it ceased to be the main occupation of the population. The development of handicraft and reformed manufacturing production were brought to the forefront. Tanning industry, as well as soap and candle production also became of great importance. Academician Falk in 1773 wrote in his "Travel" that 1057 artisans of different professions work in Kazan, though some annals say there were more of them. There appeared the first large handicraft workshops. In 1718 there was founded Kazan Admiralty, and already in 1727 there worked more than 1000 registered workers.
Such enterprises as public and private tanning and cloth manufactures were gradually gaining popularity. The trade was quickly developing; the biggest capitals could reach 100 000 rubles.