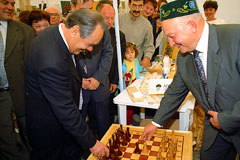 Kazan is the main economic centre of Tatarstan, as 35% of population working in different spheres of economics live there. There are 151 large and medium-size enterprises in the city, 98 of them are corporate enterprises. Such names as Kazan helicopter plant, Org-synthesis, "Krasny Vostok", "Nefis Cosmetics", ICL-ÊÏÎ ÂÑ, compressor plant and some others are well-known not only in Tatarstan but in every part of Russia.
In the sphere of telecommunications in Kazan is used high-technology equipment. The city telephone network, as well as wire, radio-telephone and cellular networks are highly developed. International relations of the city also become stronger with each year.
By the 1000-th anniversary of the city there will have been completed several important programs and construction projects: The Program of liquidation of dilapidated dwelling, The Program of the Kazan Kremlin reconstruction, construction of the first metro line. By this date should be finished reorganization of city housing and communal services.