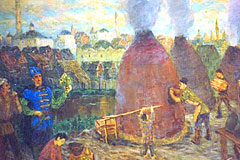 Historians believe that economic life of the Kazan Khanate with its developed agriculture, settled way of life, handicraft industry, inland and foreign trade followed the traditions of Volga-Kama Bulgary in many ways. Rich natural resources of this land contributed much to the well-being of the Khanate. Organizational pattern and specialization of craftsmen also favored the development of metallurgy, pottery, jeweller's art and tanning industry. The feudal basis of the Khanate was supported by corresponding superstructure, legal and other necessary institutions.
Powerful feudal lords used more progressive agricultural techniques; three-field system was already widely used.
Furs, honey and wax played important role in yasack taxation. A great part of income from such business was paid as a tax (yasack) to the Khan and feudal lords.
Traditional trade fairs, foreign and transit trade played a very important role in the economics of the Khanate till 1552. Numerous tax-collectors steadily supplied Khanate treasury with money paid by merchants.
After some Russian merchants were killed in Kazan, Vasily III in 1523 forbade Russian merchants to go to Kazan trade fair; instead he established Makarjevskaya fair (later it became Niznhy Novgorod fair).