Economics of Bulgar period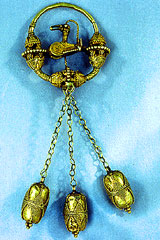 The prosperity of the Golden Horde depended mostly on trade. The state controlled a large part of the Great Volga and Great Silk ways. At the markets of the Golden Horde cities one could buy goods brought from Western Europe and Transcaucasia, Middle Asia and Persia, China and India, Russia and Bulgary. Ferrous and non-ferrous metallurgy, as well as ceramics reached a very high level. All this was characteristic of the Kazan Khanate too. Kazan armourers, potters, jewelers were well-known for their fine products. At this period the city was an important trade center of the Volga region; numerous finds of china, crockery from Middle Asia and sphero-conical vessels also prove this.
The famous Kazan trade fair that was very popular with foreigners, yearly took place on the Gostiny Island on the river Volga.