Culture in ancient times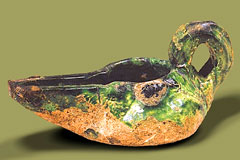 In the burial ground on the territory of Tatarstan there were found not only bones, but also axes, hatchets, ceramics and slate embellishments. The scientists even found goods for export: Egyptian embellishments and lots of items of Caucasian type. By the way, among our ancestors there were their own archaeologists: in the burial grounds scientists found a tooth of wooly rhinoceros, though the animal had lived in this area about 10 thousand years before Harinoborian tribes came there. Archaeological finds of the II century B.C. enable the scientist to speak about the birth of art in our land. Figuration on the crockery, bronze tool and embellishments consisted mostly of geometrical figures – people used straight lines, shaded triangles, rhombuses, circles and spirals for decoration. Animals were also depicted in straight lines, mainly in sketches.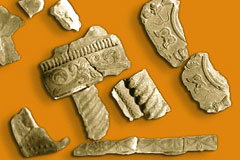 In the habitats of Volosovsky people the scientists found women's embellishments. And Anansky people buried their military leaders together with expensive weapon, golden and silver embellishments. Also they would set a headstone with a picture of a warrior and weapon on it. In private life they widely used ceramics with rich decorations.