Cultural development today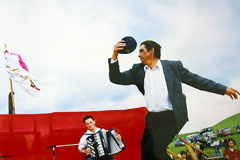 Today Kazan is one of the largest scientific and educational centers of Russian, and it has a special position in the history of Russia and world culture.
In the capital of Tatarstan work 7 state theatres, 8 cinema houses, 27 music schools, 2 arts schools, theatre, music and choreography colleges, as well as the National Library, 4 republic and 65 city libraries, The State United Museum of the Republic Tatarstan and its branches.
The Kazan University was the third in Russia as it was founded after Moscow and St.Petersburg Universities. All in all in Kazan there are 29 high schools, Academy of Sciences of the Republic Tatarstan, Kazan Center of the Academy of Sciences of the Russian Federation and a network of scientific-research institutions. Kazan is the capital of original nation and a multi-national republic. These people have their own language, culture, ancient traditions, faith and holidays. Being the center of a multi-national culture, Kazan organizes traditional international Shalyapin Opera Festival and Classic Ballet Festival.
An inseparable part of the city spiritual life are the Tatar national holidays such as Sabantuy, Nauruz and the main holiday – The Republic Day (August,30). It reflects both ancient traditions and celebrations and the new face of Kazan.
As for its historical and cultural value and degree of safety of cultural heritage, the capital of Tatarstan is A-rated (like Moscow and St.Petersburg). The Kazan Kremlin is included into the UNESCO list of monuments belonging to "Universal Legacy".