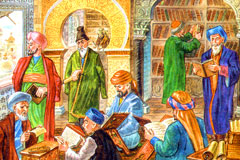 The culture of the Kazan Khanate was a mixture of various cultural traditions. Like in the Volga Bulgary, the population here was mostly educated. For instance, during excavations there was found a copper cumgan with some poetry engraved on it. Rich libraries and penman schools were attached to medrese. The library of the khan's court consisted of thousands of books. Literature and especially poetry were developing very quickly. Such poets as Muhhamadjar, Ummi-Kamal, Kul Sharif and others were well-known.
Very popular was dastan "Idegey".
Performers played gusli, kuray, kubiz. A real masterpiece of jeweller's art of the first half of the XV century is the so-called "Kazan cap". Today it is stored in the famous Armory Museum in Moscow.
Another "visiting card" of Kazan craftsmen were leather items, for example, boots embroidered with scraps of leather – ichigi, which are very popular till present days.
According to Michael Khudyakov, "in the city of Bulgar cultural life abounded in vitality. The remains of monumental constructions of ancient Bulgar that were found in Spassky region of the Republic Tatarstan prove that. Marvellous buildings, reveted with beautiful arabesques and bright ornamental patterns were constructed by talented architects and artists".
After the downfall of the Volga Bulgary its state organization was inherited by the Kazan Khanate.
The cultural life was very intense; this fact is supported by the materials of the book by Sherefeddin, the son of Khisamuddin. The book contains a list of the settlements of the Kazan Khanate where were located famous schools and graves of the sheikhs "known in the East and West". To the same fact testify numerous headstones with Arabic inscriptions that can be found in different villages of our land, and a large amount of manuscripts that were preserved in circulation among the Moslem population of our land. Such manuscripts are often decorated with wonderful colour miniatures, which are real masterpieces of graphics.