Cultural development in mid XVI - beginning of the XVIII centuries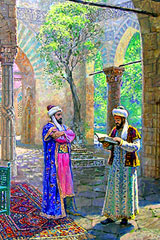 The development of tatar culture in the XVII-XVIII centuries depended mostly on the Moslem Clergy. The culture of this period was developing mainly in one direction – religion, without a trace of secular life. Religion was the main subject of literature; history considered the problems of historical development of religion, even public opinion was closely connected with theology.
The most well-known poet of the end of the XVII – beginning of the XVIII centuries was Mavlya Koly. All his poems preserved in his hand-written collection are full of religious-philosophical meditation on the questions of life and death, appeals to the moral purity and religious perfection.
Usually tatar schools were attached to mosques. After the Kazan Khanate became a part of Russia the number of mosques decreased sharply. Moslem schools were nearly abolished, consequently the degree of literacy among tatar population declined. Only after Catherine II had enacted a special decree on faith toleration, there began to appear new mecktebs (primary schools) and medrese (secondary schools).